Flexible Manufacturing Group
Keep revisiting the News pages for all our companies and we will keep you up to date on current projects and future investments.
June 2016
FST's Expanded Capabilities
Flexible Surface Technology have expanded their capabilities as the leading environmentally approved electroplater in Scotland. Please see the Capabilities page for details, with a further update to follow on the 600K investment in a new Powder Coating Capability.
February 2013
Expansion of FMG Fleet
We have added another high sided van to our fleet as part of our ongoing upgrade program which guarantees the reliability of our vehicles; this also adds more flexibility to our fleet allowing us to meet the ever growing logistical requirements of our Customers.
March 2012
FMG and the Stephen Gallacher Foundation
The Flexible Manufacturing Group is delighted to be involved in the Stephen Gallacher Golf Foundation. There is a strong bond between both parties, underlined by a commitment to invest in young people, giving them an opportunity to learn, develop and enjoy themselves at the same time.
See the attached link to the Stephen Gallacher Golf Foundation
If you would like any more information please contact us in the normal manner and we can share with you details of the corporate and private opportunities that are available to support what we hope you agree is a very worthwhile and valuable cause.
August 2011
Business Insider Magazine features FMG
Business Insider Magazine names Flexible Manufacturing Group number 3 in their
SME300 and profile the Group and it's CEO Jim Jamieson in their August edition
July 2011
Second Vehicle
FMG now have their second vehicle on the road with the group livery. This takes the number of 7.5T vehicles to 5 which combined with 4 vans allows FMG to support their customers efficiently
June 2011
New Van Added
With transport now controlled centrally within FMG, we have added a new, larger van to the fleet. This vehicle will specifically support our English based customers, where the larger load area will allow us to efficiently support their requirements. The new FMG livery will become the norm,with another HGV truck joining the fleet in early July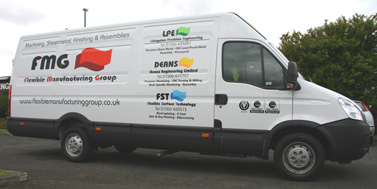 Iveco Daily 2.3 HPI
October 2010
FST Add Real Value
Capitalising on Deans innovative use of extrusion and LPE's ability to punch, fabricate and weld to fine limits, FST have successfully been able to add real value to one of our customer products. Where the previous designs were painted causing problems for our customer in wear, chipping and possible contamination of their process, FST have used coloured anodising to give a much more tolerant, capable and robust finish which even if dropped will not chip or cause ingress to the customers process.
If coloured anodising may be of interest, please contact us for more details
August 2010
Surtec650 Approval
FST have in conjunction with one of their existing customers gained approval of the Surtec650 process for use on components for the European market. Surtec650 is a chromium(VI)-free trivalent passivation for Aluminium. The liquid concentrate delivers an excellent corrosion protection and it is ROHS compliant.
April 2010
Black Chrome
We have added the Black Chrome process to already extensive range of processes we offer and are currently applying this finish to components for use on underwater breathing apparatus.
January 2009
FST Upgrade Laboratory.
Underlining their focus on process control and quality, FST have upgraded their already impressive laboratory facilities. This ensures FST maintain the commitment to their customers and the environment.
FST win supplier of the year award from Drager
Secured against a world class supply chain.
FST add new vehicle to fleet.
FST have recently bought a new Mercedes Atego for deliveries and collections.
FST commision a new E-Coat plant
Giving Scotland its first E-Coat plant.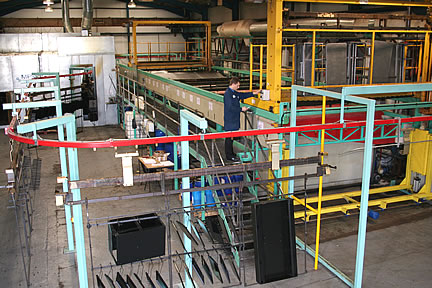 E-Coat Plant